Marinated egg yolk technique
For 1 marinated egg yolk – Preparation: 2 min – Marinade: 3 to 24 hours
1 egg
4 tablespoons. tablespoons sweet or salted soy sauce
Pour half of the soy sauce into a bowl. Separate the egg yolk from the egg, being careful not to pierce it. You can store it empty in the refrigerator for later use. Gently place the yolk in the bowl, pour in the rest of the soy sauce and turn gently, every 3 or 4 hours. Count 5 to 6 hours for a soft egg yolk texture, 10 to 12 hours for a firmer texture, and 24 hours or more for a waxy consistency. The longer the marinade lasts, the more yellow it takes on color and approaches the texture of the bottarga.
Udon carbonara
For 4 people Preparation: 10 min – Cooking: 10 min
350 gr udon noodles
100 gr guanciale (or pancetta)
8 egg yolks
70 gr minced parmesan
70 gr minced pecorino
4 marinated egg yolks
Ground pepper
We cut the guancialet in lardo and cook them for 5 minutes in the pan, so that they are crispy. Cook the noodles in boiling water for 5 to 6 minutes. Take 3 tablespoons. tablespoons of their cooking water. Beat the egg yolks, grated cheese and ground pepper. Add boiling water and stir vigorously again. Add the noodles to the pan, off the heat but still hot, over the pieces of bacon bacon, pour the sauce and mix well. Serve immediately, adding a marinated egg yolk to each dish.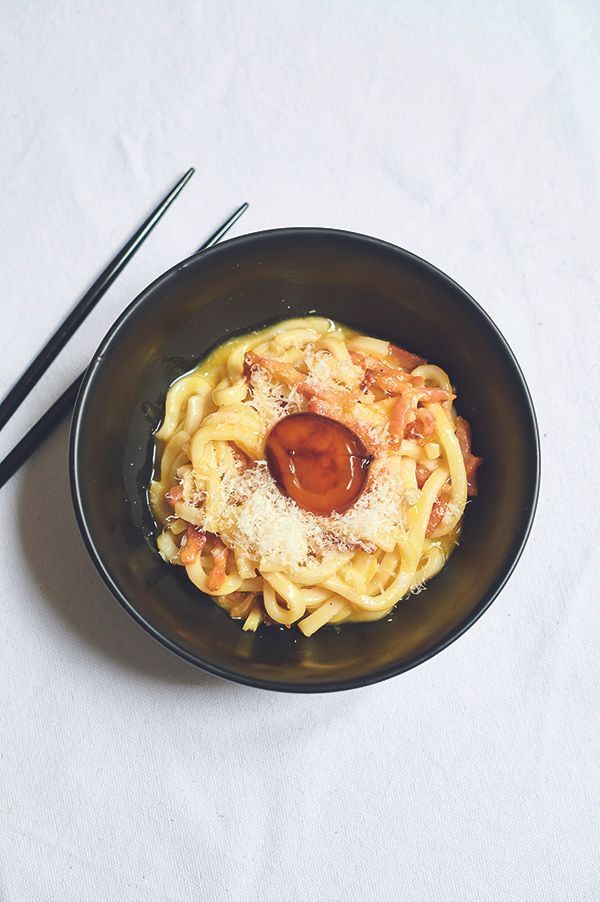 Also to discover: Here is the new recipe that is driving internet users crazy and includes eggs and avocado
Vinegrette with leeks, marinated eggs
For 4 people – Preparation: 10 min Cooking: 10 to 15 min
8 presh
4 marinated egg yolks
1 tablespoon. hazelnuts
1 tablespoon. olive oil
1 tablespoon. vinegar
1 tablespoon. teaspoon hazelnut or sesame oil
Ground pepper
Remove the green from the leek and a layer from the white if it is too strong. Boil them until al dente (about 10 minutes). Chop the hazelnuts approximately. Mix the oils and vinegar, add the grated hazelnuts. Arrange two white leeks on the plate or line the whites on a serving plate. Add the marinated egg yolks. Cover with sauce, pepper and serve.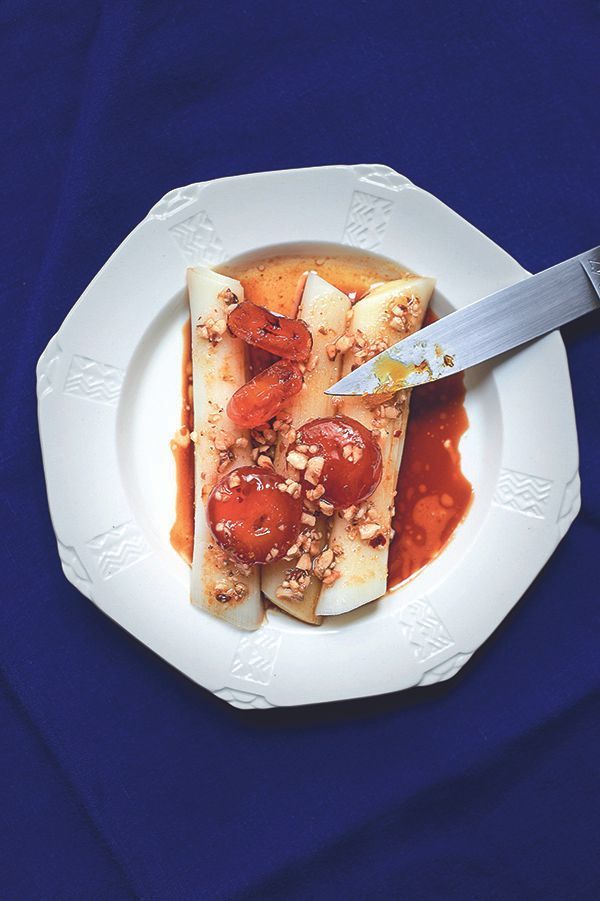 Recipes taken from Dans ma cuisine, by Elvira Masson, Marabout.