And if we are going to boil St. Joseph's soup to celebrate the end of his special year decreed by Pope Francis, this December 8th? Here is the delicious recipe of Marie-France Delpech, the gourmet from the Southwest, who has been cooking for thirty years according to the principles of Saint Hildegard of Bingen.
Full of flavor, St. Joseph's soup is a real wink. Starting with his name. As described by Marie-France Delpech, author of Cooking with Bingen Hildegard (Le Rocher), this traditional Provencal dish, named after the adoptive father of Jesus, is used when you have to settle for "poor" cuisine. Then, of course, there is a connection with the appearance of St. Joseph in the region, more precisely in the sanctuary of Cotignac. Finally, there is the chickpea soup, one of Pope Francis's favorite soups, which the Bergoglio family loved to cook. In short, at least three reasons to discover the Marie-France Delpech recipe.
St. Joseph's soup
For 4 people, preparation: 30 min, cooking: 1 hour, 10 min
Ingredients:
200 gr chickpeas, 1.25 l water, 1 large onion, 1 celery stalk, 2 carrots, 1 bay leaf, salt and pepper.
Preparation:
1. The day before soak the chickpeas.
2. Boil the chickpeas for 30 minutes in a saucepan.
3. Meanwhile, cut the onion and celery, cut the carrots into sticks.
4. Add vegetables and bay leaf, salt, pepper to the chickpeas.
5. Continue cooking for 40 minutes.
6. Remove the bay leaf before serving.
7. Serve hot.
"Cooking with Hildegarde de Bingen", by Marie-France Delpech, Rock publications, 17.90 euros.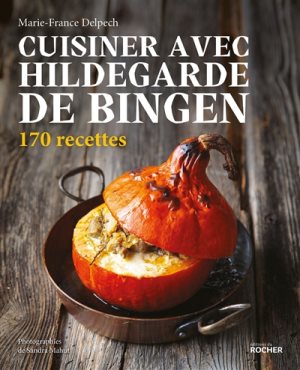 Editions du Rocher